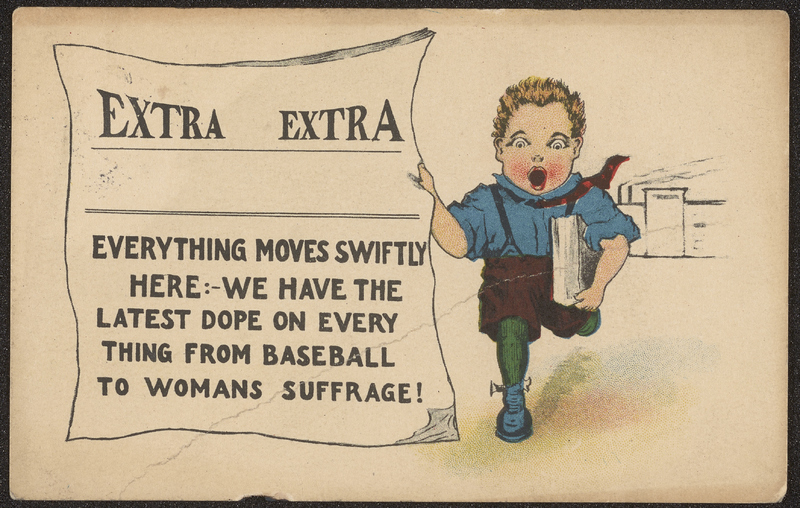 Postcards became a global phenomenon in the late 19th century as they were an affordable way to communicate with friends and family, and a frugal means to promote businesses and political causes. Colorful and collectible, they were conversation pieces that documented the trends and cultural currents of the times, much like memes today. Indeed, postcard manufacturers hired commercial artists and photographers to create postcards that people would cherish, covet, and perhaps find humorous. The illustrations went far beyond depictions of scenic views and sentimental greetings to incorporate topics that were quite controversial. It is no wonder, then, that the issue of women's suffrage was among the most popular subjects for commercial postcards during the start of the 20th century, with illustrations representing everything from absolute support for the enfranchisement of women to horrible visions of what a "petticoat government" might look like.
Students in the course "Votes and Petticoats" analyzed the collection of suffrage postcards housed in the Sheridan Libraries' Department of Special Collections in order to learn about the visual culture surrounding the "Votes for Women" campaign. They discovered recurring themes, in which fashion, gender roles, children, and even cats became entwined in the arguments of both pro- and anti-suffrage voices. The postcards provide intriguing evidence of how the mere idea of women voting got America talking.
Enjoy this tour of women's suffrage postcards with our capable student curators as your guide. You may also browse our Women's Suffrage Collection album to view additional postcards, books, and artifacts pertaining to the long struggle for female enfranchisement. The collection is overseen by the Sheridan Libraries' Department of Special Collections, and is available for use by researchers. Please contact Special Collections staff regarding questions on access and use of the Women's Suffrage Collection.