Music has served as the backdrop for celebrations, wars, family gatherings, rallies, riots, insurrections, and inaugurations. More specifically, sheet music served as an early form of social media, spreading messages through catchy tunes and attracting passers-by with colorful covers. Historically, content creators like composers and movie producers and today's Instagram advertisers have known that music can evoke emotions in ways words cannot, often without audiences realizing it's happening.
Music has been used in every social movement to inspire people to join and to provide legitimacy for that movement. Ultimately, music has spurred on causes such as suffrage and abolition, but it has also supported more nefarious ideologies, including the movement for white supremacy. Unfortunately, it has never been easier to join the white supremacy movement-- flyers for the Proud Boys (self-identified Western chauvinists named after a song composed for Disney's Aladdin) can be found on Florida street lamps (see below). Hateful groups are being created on social media platforms almost as quickly as the platforms can remove them, driving users to fringe, less regulated echo chambers. Although music is no longer the primary tool for recruiting members into the white supremacist movement, it remains a strong channel for bringing curious minds into the fold as well as a platform for disseminating hate.
Content Warning
This exhibit contains explicitly racist, sexist, xenophobic, and other uncensored offensive language. The exhibit aims not to promote or otherwise celebrate these materials, but to use items of intolerance as teaching tools. You can read more about our efforts to catalogue and contextualize harmful content in our music collections.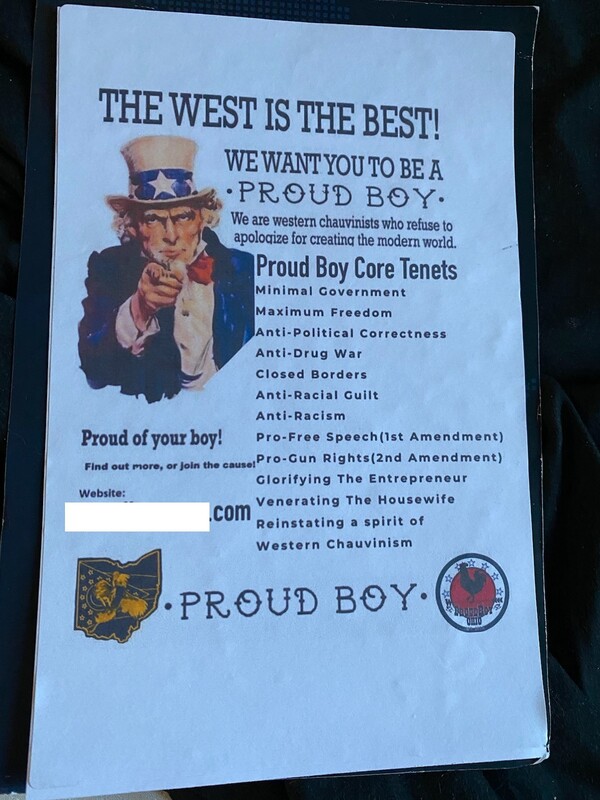 This exhibit situates a few selections of historic sheet music from the Lester Levy Collection within the broader context of the white supremacist movement in the United States, dividing the movement chronologically into four sections: the Civil War, minstrelsy, the Ku Klux Klan, and the modern era. These songs were amassed over the lifetime of Lester Levy, a sheet music collector that recognized the important role sheet music has played throughout history. While Levy's collection focuses on music from more mainstream threads (vaudeville, broadway, etc.), he also sought to preserve songs from the darker corners of US history so students and scholars could confront them.
Defining the Movement
In defining white supremacy, the Anti-Defamation League lists four core ideologies, each of which can be found in the songs explored in this exhibit:
Whites should have dominance over people of other backgrounds
Whites should live by themselves in a whites-only society
White people have their own "culture" that is superior to other cultures
White people are genetically superior to other people
Of course, the presence of these ideologies has migrated within the history of the movement. For example, #1 was arguably the root cause of the Civil War, #2 was a stated goal of the Ku Klux Klan, and the minstrelsy movement falls more into #3 and #4.
Common Threads
Below are the threads and common themes that remain consistent throughout the sheet music in this exhibit, and closely match the core ideologies of white supremacy as listed above by the ADL:
The claimed biological superiority and unique ancestry of the white race
Claims of 'white genocide' and fears of loss of white culture
Recruitment through expressions of pride, solidarity, love, and loyalty rather than overt anger, outrage, and violence
Anti-Semitism and anti-Catholicism in addition to anti-Black sentiment